Mozilla Thunderbird
is a
free
,
open source
, cross-platform e-mail and news client developed by the Mozilla Foundation. The project strategy is modeled after
Mozilla Firefox
, a project aimed at creating a web browser. On December 7, 2004, version 1.0 was released, and received over 500,000 downloads in its first three days of release, and 1,000,000 in 10 days.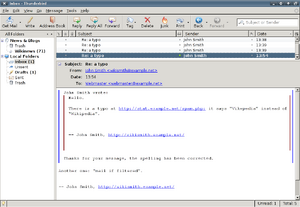 Mozilla Messaging, Mozilla Foundation
C++, CSS, JavaScript, XBL, XUL
MPL/GPL/LGPL tri-license
English (British), English (US), Afrikaans, Albanian, Arabic, Basque, Belarusian, Bulgarian, Catalan, Chinese (Simplified), Chinese (Traditional), Czech, Danish, Dutch, Estonian, Finnish, French, Frisian, Galician, Georgian, German, Greek, Hebrew, Hungarian, Icelandic, Indonesian, Irish, Italian, Japanese, Korean, Lithuanian, Norwegian (Bokmål), Norwegian (Nynorsk), Polish, Portuguese (Brazilian), Portuguese (Portugal), Punjabi, Romanian, Russian, Serbian, Sinhala, Slovak, Spanish (Argentina), Spanish (Spain), Swedish, Tamil (Sri Lanka), Turkish, Ukrainian, Vietnamese
External links
Ad blocker interference detected!
Wikia is a free-to-use site that makes money from advertising. We have a modified experience for viewers using ad blockers

Wikia is not accessible if you've made further modifications. Remove the custom ad blocker rule(s) and the page will load as expected.